Welcome to D Bar J's Crappy Cowboy Hat Collection
FREE SHIPPING within the 48 contiguous US States. $75 International.
Made with the same quality care as our #1 hats, our Crappys are discounted accordingly, due to manufactural body flaws, or an excess of different types or colors of bodies in our shop. Some had holes that were sewn and have a visible stitch, and some only had weak spots that were reinforced and have no visible flaws. If they have a visible flaw, there is a picture of it on their item description. Please feel free to call with any questions.
(702)740-HATS(4287)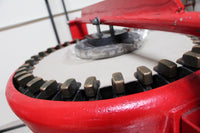 Handmade like it was in the early 1900's
Every single hat that comes out of our hat shop is handmade the old fashion way, just like it was done in the early 1900's. From the processing of the fur felt, to the hand shaping and sewing of a finished hat, it's all done by our D Bar J Hat Team!